Peaktronics DC Positioning Controller for Automation
---
The DMC Series DC Motor Controllers provide proportional positioning for actuators that use DC motors. The units operate over a range of 10 to 30 VDC and power locked rotor currents up to 60A. The units utilize dynamic braking which can eliminate mechanical brakes in some applications. These units can also be used to operate DC solenoids for pneumatic actuators.
The DMC-102 units feature Electronic Surge Suppression allowing these units to operate with motors up to 60A locked rotor without the need of surge limiting resistors. This feature also reduces the wire size requirements and power supply requirements to 20% of locked rotor. The DMC-102A has an adjustable current trip setting, with a current trip relay output, which can be used to prevent excess torque when the actuator is overloaded.
For smaller actuators, the DMC-101 is a cost-effective solution that provides compact mounting.
If you have questions or need technical information about any of the DC positioning controllers or surge limiting resistors on this page, please call us direct at (248) 542-5640. Our experienced engineers can help find solutions to your automation challenges!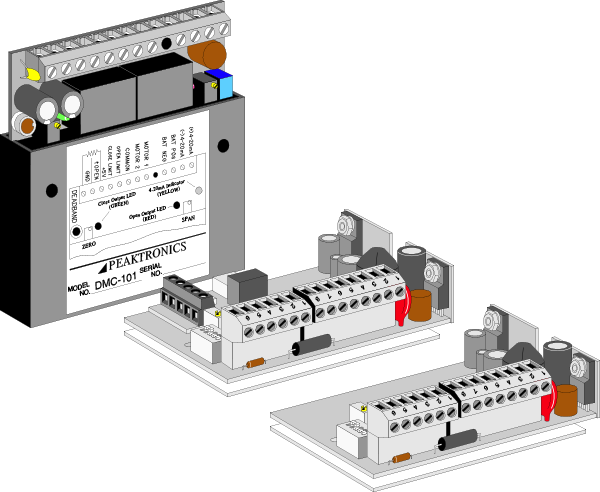 SLR Series Surge Limiting Resistors
The SLR series surge limiting resistors are used in conjunction with DC Motor Controllers to limit high locked rotor currents found on some DC Actuators while not impairing normal operation. When used, these devices can extend the service life of the controller and reduce load requirements of the DC power source.
| Model | Resistance | List |
| --- | --- | --- |
| SLR-100 | 1 ohm | $ Call |
| SLR-101 | 2 ohm | $ Call |